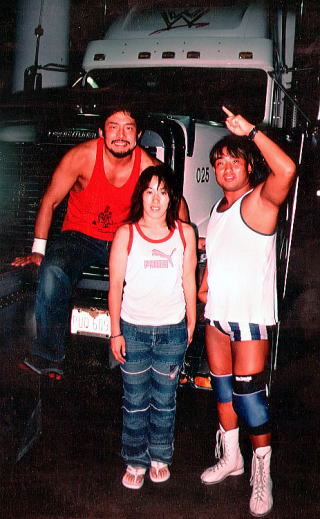 Sumie Sakai's Personal Notes...

I enjoy training hard and trying to learn American style and Mexican style
at CHIKARA and PWU school. I want to go to a lot of pro wrestling schools
in the United States.
I love Hello Kitty merchandise.I like to collect them.
I love American foods. But American foods made me fat.
When I had a bad thing,I was able to diet.
I have a lot of friends. My treasure is my real friends!! When I had show for Sabu in Japan,a lot of wrestlers helped it. Because everybody like Sabu. I want to become like Sabu. I really respect Sabu and Hitomi(his wife).

Contact to her
if you want her for your wrestling event
booking to her
and
contact to webmaster

sumie mania make her home page qlick here

this page made by Puroresuya.com
MACKY


Ring name☆Real name/Sumie Sakai
Home town/Japan
I live in Philadelphia
Height/5'
Weight/118lbs.
Debut/April 20th. 1997 in Korakuen Hall vs. Megumi Yabushita
Trainer/Jaguar Yokota
Promotion/Jd'(1997-2003) - Freerance
Training/ Jd'(Jaguar Yokota,LionessAsuka,Cooga,Bison Kimura) Killer Kowalski School(Killer Kowalski,Slyk Wagner Brown,Tim) Steve Bradley
How It Started/I was invited by a friend from judo who wanted to wrestle. I
decided to enter the wrestling business with her(Megumi Yabushita) and we
became a tag team(YABUSAKA).
Wrestling Style/High-Flyer, Technical, Old-School and Death Matches. I
usually work as a babyface because of my size and style.But I want to
challenge various things in professional wrestling.
Titles Held/TWF World Tag,All Japan Tag,JD Junior,AWF,QOR,North American
Women's Champion,
Biggest Win/It was an anything goes, falls count anywhere, weapons match.
Me and Hiroyo Mutoh vs. The Bloody and Fang Suzuki. We became the TWF Tag
Champions.
Favorite Type of Match/Death Match is my favorite. But I like every type of
match...except for cat fights and gown matches.
Favorite moves☆Holds/Moonsault Press,Small Package
Biggest Allies/All the wrestlers that are working to raise the status of
women's professional wrestling.
Most Hated Enemies/None in the United States...yet!
Career Highlight/I enjoyed wrestling the most famous woman wrestlers in
Japan. I also had matches against some famous male wrestlers, including
Great Sasuke, Dick Togo,Ikuto Hidaka,Minoru Fujita,Kintaro Kanemura and
Shinzaki Jinsei (Hakushi).
Favorite Wrestler/I have a lot of respect for TAJIRI. and I really enjoy
his work. Also CM Punk,Satoshi Kojima,AJ Styles,Christpher Daniels,Dick
Togo,Curry man and Sabu.
Wrestling Ambition/I want to change American women's wrestling. I want it
to be more respected and more highly regarded in America. I can speak some
English, no problem and I want a match with every American wrestler

Do you want know more about sumie??